Menzies Aviation is extending its American network to Jamaica by acquiring a majority stake in AJAS Limited.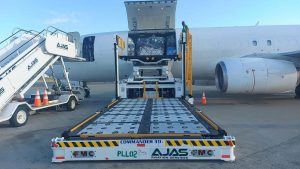 The privately owned ground and cargo handling company has operated in Jamaica for over 82 years, employs almost 600 staff and provides ramp, passenger and cargo handling services to several international airlines at Norman Manley International Airport in Kingston and Sangster International Airport in Montego Bay.
Following the acquisition, AJAS Limited will be rebranded as Menzies AJAS, bringing it in line with other companies in the Menzies Group and the current management team will stay in place.
John Redmond, Executive Vice President Americas of Menzies Aviation, said: "The Menzies AJAS combination brings together local knowledge, relationships and expertise, which will strengthen our position in this market. We look forward to working with the AJAS team to grow the business under the Menzies brand."
Howard Mitchell, Chairman of AJAS, said: "We have a shared vision with Menzies and are aligned on the value of our employees and how we look after them, which in turn maximizes the service they provide as well as the return to our stakeholders."
The transaction is expected to close in a matter of weeks, subject to regulatory approval, and the rebranding and integration into Menzies' global network will begin this month.