Avro GSE, a subsidiary of Saskarc Industries, has launched a new line of powered equipment.
Not only is the equipment modern, efficient and green, but it is also equipped with a fleet management system, that of Avro Tracker. This comes with a one year managed maintenance programme called Avro Care. 
Avro's new GSE range includes several models of baggage tractor, an aircraft pushback tractor, a beltloader and other equipment besides. Several of these units are running on electric, which will help customers reduce their carbon footprint and cut costs. In addition, all of the equipment is specifically manufactured to withstand the harsh North American climate and comes with a 12 month warranty.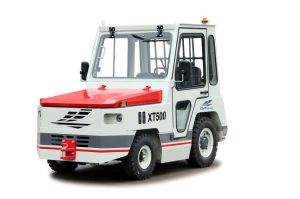 Under the Avro Care programme, Avro GSE proactively monitors and manages all Avro GSE powered equipment and vehicle maintenance requirements for one year, although longer subscription terms are available. With three tiered service levels of Avro Tracker available, the Avro Care programme is designed to enhance operations by helping to avoid unscheduled downtime through malfunctioning equipment or poor operator behaviour. This fleet management solution, combined with the vendor managed maintenance programme, aims at prolonging equipment life and maximising the value, performance and efficiency of the assets.