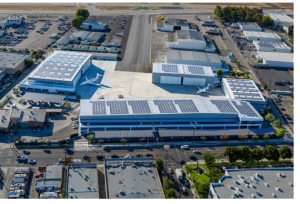 Los Angeles World Airports has joined with local elected leaders and aviation executives to further embrace sustainable energy with the announcement of solar power generation at Van Nuys general aviation airport.
The airport's business tenant, Aeroplex/Aerolease Group, showcased the recent operational launch of its solar rooftop and canopy installation, which is a first at the station, while six other business tenants also unveiled solar energy project commitments. This is the first instalment of a solar power generation project at a Los Angeles airport, although there are other projects in the pipeline, pending regulatory approvals.
Upon completion of all seven projects that have been presented, the airport will become one of California's leading general aviation airports for solar energy production.