IT comes to airport's aid
Cincinnati/Northern Kentucky International airport, in combination with the local Transportation Security Administration, is using live and empirical data to identify irregularities at the security checkpoint. Thanks to BlipTrack technology, the airport is now experiencing better resource utilisation and smoother passenger processing.
In 2016, the airport achieved its best ranking in the history of the US Department of Transportation airfare report. It also experienced its highest passenger traffic volumes since 2005, with almost 7m passengers passing through this international transport hub.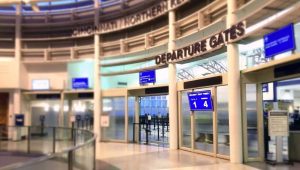 To keep the passenger experience positive, even as carrier and traveller numbers continue to rise, the airport implemented BlipTrack queue and flow technology at TSA checkpoints during 2014. The airport was the first in the US to utilise this solution, which allows it to measure, understand and improve the traveller experience, and to better plan and allocate resources in cooperation with the TSA.
After one year of use, the airport was in a position to announce that, due to the data gathered via BlipTrack, it had successfully reduced TSA security line waiting times by one third. In a 2015 report produced by Purdue University, standard waiting times had dropped by nearly over four minutes from 13.2 minutes to 8.9 minutes, compared to 2011.
Since then, the airport has gradually expanded the solution and added new features to help streamline operations further and continue improving the passenger experience. Passenger-facing waiting time monitors and CVGairport.com interfaces provide immediate waiting time status, thereby easing the travel anxiety associated with queue lines and setting realistic expectations. Additionally, the airport has gone so far as to establish service level agreement-like standards for self-accountability, ensuring average waiting times below 15 minutes are consistently delivered. For the second quarter ending June 2017, the average waiting time for expedited screening registered at 11 minutes 28 seconds. This is deemed significant, given the station's surge in peak-day checkpoint throughput from 10,000 to over 15,000 during the same period.