American Airlines Cargo wins quality award
American Airlines Cargo has won a 2017 Quest for Quality award in the annual customer satisfaction and performance excellence survey, for the second consecutive year.
The survey, conducted by the Peerless Group and Logistics Management magazine, has been undertaken over a period of six months from the start of the year for almost 30 years. Around 5,500 survey respondents voted across a number of criteria which saw American recognised as the best for global service excellence.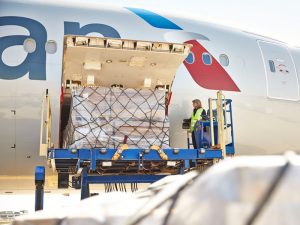 Peerless Group's Editorial Director, Michael Levans, said: "When you consider the challenging environment in which transportation and logistics service providers have had to manage during the past year, we believe that walking away with a Quest for Quality Award in 2017 is nothing less than a monumental achievement that should be celebrated across your entire organisation".
Kim Trahan, American's Cargo Operations and Trucking Manager, accepted the award at a gala awards ceremony in Atlanta. Trahan commented: "Awards like this matter the most since they are voted on by the professionals within our industry who use our services week in and week out." She went on to thank American's teams around the world for their part in delivering consistently exceptional customer service.
This is the third customer-voted award American has received this year. In April, it was voted Cargo Airline of the Year and Best Cargo Airline of the Americas by the readers of Air Cargo News magazine.