New scissor lift comes to the airport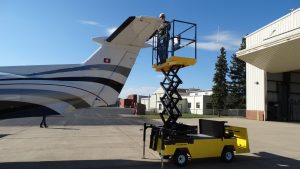 The UTX Scissor Lift, which is made in Wisconsin, is designed to be fitted on to the back of an everyday utility vehicle but with one important difference – it can be quickly removed when not required. With a working height of up to 19 feet, something that can be achieved in under two minutes, it is a very versatile unit. The UTX deploys stabilisers for maximum security and is suitable for a one or two man operation.
Since its release last year, the UTX Scissor Lift has found interest amongst municipalities, landscapers, builders, film crews,  maintenance companies, farmers, hunters and railway operations, as well as airports and airlines.
According to the manufacturer, the first airline to buy a fleet of UTXs wanted a quick response scissor lift. The facility was duly incorporated with an electric vehicle, permitting it to be used inside the terminal as well as out on the ramp. Whilst a traditional scissor lift has a maximum speed of 3-4 mph, this can go faster, according to the carrying vehicle.
Helpfully, the UTX can be fitted to any utility vehicle that has a cargo box capacity of 1,000 pounds or more. Ingenious engineering means that removing the UTX from the utility vehicle takes under three minutes – and it can be stored off the ground, without any heavy lifting.
Currently, the company is working on developing the US market before looking to the UK and Europe as potential sales areas.