Las Vegas renews with ARINC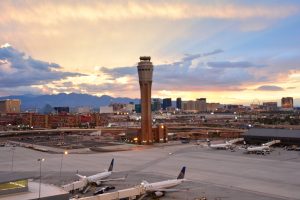 Building on a 20 year relationship, Las Vegas McCarran International has renewed its passenger processing solutions with Rockwell Collins, adopting new passenger technologies that should advance its technological position well into the future.
"Our team is constantly evaluating the airport's infrastructure and operations seeking ways to enhance customer service, maximise efficiencies and increase flexibility," affirmed Samuel Ingalls, assistant Director of Aviation over Information Systems for McCarran. "Over the past two decades we have had great success in managing our soaring passenger volume through the implementation of common use processes and other cutting-edge technologies such as those provided by Rockwell Collins."
With this contract renewal, Rockwell Collins will refresh 176 common-use self-service kiosks with new units to support the upgrade of Terminal 1, helping McCarran to maintain its position as one of the leading airports in North America.
Also included in the renewal is continued support for additional Rockwell supplied airport systems. These include ARINC's MUSE; a local, standalone departure control system; ARINC's BagLink and radio frequency identification bag tag support. Also in the package will be the specialist's self-boarding gate solution that allows passengers to scan a boarding pass and board the aircraft through an automated gate.