The latest from Textron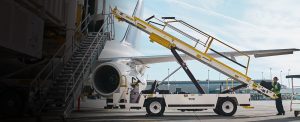 A newly refreshed line of TUG 660 beltloaders has been announced by Textron.
Petrol, diesel, LPG or electric motive power combine to give the customer a breadth of choice when it comes to purchase and the latest Textron offering endorses the tenets of versatility, reliability and safety.
The petrol, diesel and LPG units are all equipped with 4LHD transmission whilst the battery-powered model is equipped with an AC powertrain and a regenerative braking function. Running on robust Newage axles, these 660 beltloaders incorporate a return-to-neutral functionality as well as a gearshift inhibit feature and are delivered with the company's Smart Sense anti-collision technology fitted as standard. A host of options is also readily available, which embrace such add-ons as multi-position E-stops, electric belt controls, an electronic shifting facility and handrails. Both diesel and electric versions are built with CE certification in mind.
In line with Textron's lean manufacturing methodology, the beltloaders benefit from a wide commonality of parts in order to ease maintenance requirements and render the units more economical to run.