Intercargo deploys cool dollies
In mid-January, Intercargo assisted the first Aeroméxico flight to transport Oxford-AstraZeneca vaccines.
This was followed on January 28 with a special operation concerning Sputnik V vaccine transportation, using an aircraft from Boliviana de Aviación to La Paz. For this special operation, Intercargo used its recently incorporated cool dollies.
This equipment is unique in Argentina and is seen as a useful element in the necessary logistics to transport COVID-19 vaccines, keeping the coldchain intact and avoiding abrupt climate changes when the sensitive cargo is uploaded to or downloaded from an aircraft.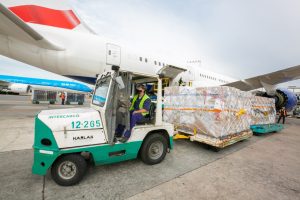 Intercargo removed the dollies' rollers and locks, covering the area with welded sheeting to achieve a greater cold conservation. On the upper surface of the dolly the handler constructed a thermal panel structure, and put inside and outside polyurethane insulation; each dolly is cooled with an electric circuit to ensure that cold conditions are met and remain steady. Three different ranges of temperature are available, according to cargo requirement.