Swissport opens Halifax Stanfield warehouse
Swissport has opened an air cargo ware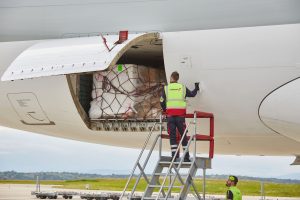 house at Halifax Stanfield International Airport, its third new Canadian facility in less than six months.
With the new 370 square metre facility, Swissport complements its local offering in passenger services with air cargo handling. In comparison with 2019, the company's volumes in Canada are up 35%, underlining the need for increased warehousing and logistics capacity.
"With the opening of new warehouses across Canada, we are leveraging Swissport's global expertise to deliver world-class air cargo handling at more Canadian airports," says Charles Roberge, CEO of Swissport in Canada. "We are adding more services in more places making sure we meet the growing needs of our customers and changes in the industry. With its comprehensive service portfolio Swissport in Canada aspires to be the partner of choice for global and local customer airlines alike and we will continue to invest in our service delivery."
Just recently, new air cargo warehouses were opened at Montréal–Mirabel International Airport and Edmonton International Airport (EIA). The 500 square metre Montréal-Mirabel location again represents an extension of Swissport's local service offering, adding air cargo handling to the established fuelling activities. At Edmonton International, the existing full range of passenger services is supplemented by a new 1,000 square metre air cargo warehouse with options for a further expansion. The additional capacity contributes to Swissport's focus on cargo growth in the region.
Tom Ruth, President and CEO of Edmonton International Airport, says: "With the growth in cargo business at EIA, Swissport is seizing the opportunity to expand its services and create more jobs and opportunities for our community. 2020 saw tremendous growth in cargo demand and that has continued this year. As the only Canadian airport community with the global IATA CEIV Pharma certification, we look forward to more developments supporting EIA's position as a major logistics centre."