Jet In breaks ground at Milwaukee airport facility
Jet In has broken ground at its new facility at Milwaukee Mitchell International Airport.
The $11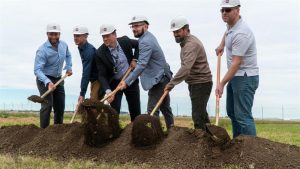 m facility at 504 E Citation Way will have services including heated hangars and the latest technology advancements catering for the needs of passengers and flight crew.
Sustainability was a priority in the design, with the facility featuring energy efficient heating and cooling, an all-electric fleet of aircraft towing equipment, and electric crew and courtesy cars.
The Jet In facility will serve the public as a full-service fixed-base operator and also serve as the Milwaukee base of operations to its sister company, Jet Out.
Joseph Crivello, CEO of Jet In and Jet Outsays: "As we continue to adjust to a post-pandemic world, general aviation provides solutions for individuals, entrepreneurs, businesses, sporting teams, and other institutions seeking to manage risk and adapt their operations to a new reality. Jet In and Jet Out are proud to meet this need."