Fenix Logistix invests in Irish operations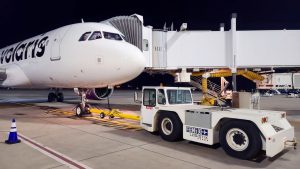 Fenix Logistix has invested in its Irish firm, Fenix Logistix Ireland to develop business opportunities in Ireland, the UK and throughout Europe.
The Dublin-based ground handling and logistics firm, Fenix Logistix Ireland (FLie) was established during one of the most challenging times in aviation history and will meet the needs of the continually changing commercial aviation market, focusing on professional staff and modern technology.
The Seattle headquartered parent company says the investment will strength Fenix's brand and along with sharing knowledge and core competencies from its US operations, Fenix in Ireland will enjoy synergies of multi-national operations.
FLie started 2022 with the acquisition of RED Handling UK from Norwegian Airlines, which became a wholly owned subsidiary on 1 January.
RED Handling, based at London's Gatwick Airport was established in 2016 as a test model to provide Norwegian a dedicated handling company for its largest hub outside Scandinavia.