Unifi takes on aha! Airlines at 10th station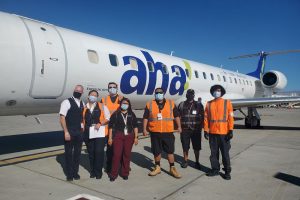 Unifi has started serving aha! Airlines at its 10th station, starting operations at Palm Springs International Airport on 3 January.
The ground handler provides aha! with ground handling operations and passenger services for over 50 flights a week.
The two companies started their partnership on 24 October at Reno-Tahoe International Airport helping ExpressJet Airlines relaunch flight operations for its leisure brand.
Gautam Thakkar, CEO of Unifi says: "By providing full ground handling services to 10 of their 11 locations, we're happy to be their largest ground-handling partner. We're committed to providing aha! the high-level service Unifi is known for and strengthening our relationship into the future."
Unifi provides aha! with ground handling services at Bakersfield, Fresno, Ontario and Palm Springs in California, at Eugene, Medford and Redmond in Oregon, Pasco/Tri-Cities and Spokane in Washington, and Reno in Nevada.