Quantum-South helps Amerijet optimise aircraft loading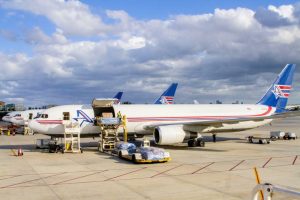 Amerijet International and logistics technology company Quantum-South have completed a proof of concept project to optimise aircraft loading.
The project studied loading to improve load factors and revenue per flight by examining data from more than 400 flights.
Using its solution, Quantum-South found that payloads could be increased by up to 30% and volumes by 76% when loaded differently with Quantum-South replacing the previous load plan of PAG and PQA containers with an optimised plan using containers including AKEs, TYPE A1, TYPE A FRONT and TYPE A AFT units.
Quantum-South's solution features an Aircraft Load Optimization module maximise weight, volume, priority and revenue mix with a focus on optimising the centre of gravity.
The Air Cargo Bin Packing module selects shipments to optimise the booked priority with container assignment and precise instructions on how to build the container such as the location and order of placement for each piece in the shipment.
The solution was seamlessly integrated with Amerijet's cargo management system, powered by the SmartKargo backend application to further enhance the efficiency and effectiveness of cargo operations.
Dr Rafael Sotelo, Co-Founder and President of Quantum-South, says, "The project's success at Miami International Airport demonstrates the significant potential of our cutting-edge solution in optimizing cargo load factors. We are excited to continue working with Amerijet International and uncover more optimisation opportunities to further enhance their operations."
Eric Wilson, Chief Commercial Officer of Amerijet International, adds, "Optimising flight load plans and augmenting process efficiency helps us provide the best capacity offering to our customers while maximising the load of every flight. Quantum-South's solution has the potential to bring significant benefits to our operations, increase revenues and reduce emissions, and we look forward to further collaboration to uncover more optimisation opportunities."