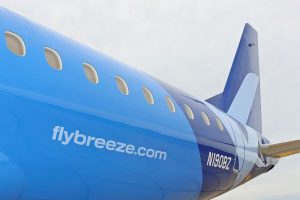 Unifi has extended its partnership with Breeze Airways to handle services in West Palm Beach, Florida.
Since Breeze Airways' inaugural flight in May 2021, Unifi has been providing services at several airports and will support six flights a week at West Palm Beach International Airport.
Gautum Thakkar, CEO of Unifi says: "We've been a proud partner of Breeze Airways since they started. As their largest aviation services provider, we are thrilled to support their Seriously Nice™ approach to their customers by delivering strong performance across all measurable categories."
In addition to West Palm Beach, Unifi also provides Breeze with ground handling services in Akron, Ohio; Bentonville/Fayetteville, Arkansas; Hartford, Connecticut; Huntsville, Alabama; Louisville, Kentucky; Norfolk, Virginia; Providence, Rhode Island; San Antonio, Texas; Tampa, Florida; and Tulsa, Oklahoma.