TNA brings new towbarless tug to the market
The latest in the TowFLEXX 5-Series, TNA is calling the new tug is the industry's "most advanced and versatile remote controlled electrical towbarless aircraft tug in its class." This newest tug combines the best in manoeuvrability, adaptability, practicality and tow capacity – can tow a wide variety of aircraft sizes.
The new heavy-duty configuration of the established 5-Series tug has a towing power of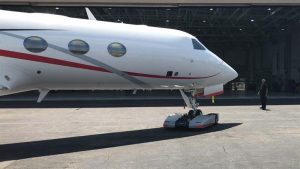 up to 75 tonnes (165,000 pounds) maximum take-off weight. Its strong prime movers have a tractive motor power up to 80 tonnes (176,000 pounds). This model is especially designed to cope with significant stress and can handle aircraft on steep inclines or other unusual harsh conditions, such as offshore helicopter platforms.
"Customers have been asking for an affordable and compact tug system, especially in the heavy-duty weight range of 100,000 to 150,000 pounds MTOW, and we've responded by introducing a smart and powerful electrical aircraft tow vehicle, making it much easier to overcome slopes and inclines and operating under tough environmental conditions," said Michael Turwitt, Managing Partner of TNA Aviation Technologies. "The TowFLEXX HD features a special transmission and gear drive combined with many features that deliver unique functionality normally not even found in bigger and more expensive conventional tow tugs," he added.
The launch date coincides with the arrival of the improved standard 5-Series configuration with many 2018 model year updates.