August 2017
Canada's Cargojet sees revenues rise
Canadian overnight air cargo carrier, Cargojet, has announced a revenue increase of 11.2% in the first half of 2017, compared to the previous year, to $88.2m.
Adjusted EBITDA earnings were up 9.3% over the previous year, at $24.6m.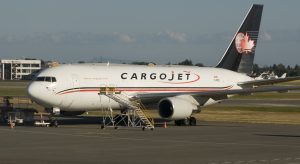 The operator said revenues came from increased volumes from existing overnight customers, contractual annual price increases and fuel surcharges. This was partially offset by a decrease in charter revenues.
President and CEO, Ajay Virmani, said the increase was a product of Cargojet's strategy to improve aircraft utilisation and to maximise margins, adding: "We continue to prudently manage our operating costs and look for further route network optimisation opportunities."
Cargojet handles around 1.3 million pounds of cargo every business night across North America using a fleet of 18 all-cargo aircraft.