Airport Terminal Services' Vancouver team has been named a top finalist in the Richmond Chamber of Commerce's Business Excellence Awards. The awards recognise distinguished Richmond businesses in ten different categories and received over 200 nominations. ATS was one of the top three finalists in the "New Business of the Year" category.
The award criteria are to honour a new business that is achieving outstanding business
performance and shows promise for continued growth. ATS began ground handling operations in September 2017 and were quickly achieving customer objectives and YVRAA safety metrics. Final construction was completed on new office space including training room, employee facilities, operations control room and management offices in October. This investment was deemed to have shown ATS' commitment to growth and employee engagement at Vancouver International airport.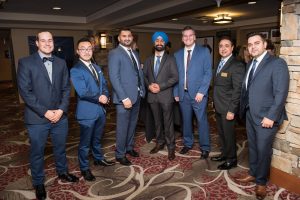 "The YVR team continues to make us proud," says Sally Leible, ATS President and CEO. "To see our YVR team, led by Managing Director, Parv Bal, grow and develop a young operation and consistently meet KPIs while showing continuous improvement in employee morale and retention is an impeccable achievement. We have the perfect trifecta in YVR with a collaborative customer in WestJet and supportive team with YVR airport. We are thrilled the Richmond Chamber of Commerce was able to recognise and reward this phenomenal accomplishment."