LEKTRO's latest
Electric tug manufacturer LEKTRO has passed another milestone, delivering its 5,400th aircraft tug. The latest model went to Airbus at its manufacturing facility in Hamburg and the sale enhances further LEKTRO's presence in the battery-powered GSE marketplace.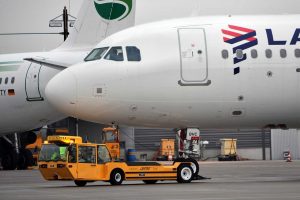 The sale was brokered by LEKTRO's authorised dealer for Germany and Austria, Bartosch Airport Supply Services.
"It is an honour to provide ground handling solutions to Airbus in Hamburg," commented Leo Bartosch, President of Bartosch Airport Supply Services. "We look forward to supporting Airbus whenever the need arises."
The tug, a LEKTRO model AP8950SDB-AL-200, is the American company's second largest pushback offering, and is capable of handling all single aisle Airbus aircraft up to and including the A321 Neo. The tug also features a new cabin design.