April 2017
Cavotec: more sales to the US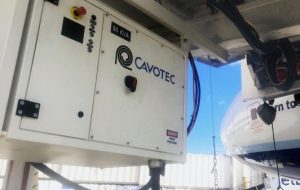 Cavotec's 2500+ 400Hz solid state frequency converter units are continuing to gain traction in the GSE market, with the US being the latest in a growing number of countries where the unit is safely and efficiently meeting the greater power demands of modern passenger aircraft.
Both Miami International airport and Fort Lauderdale-Hollywood International have selected the unique electrical and communication technological advances of the 2500+, where the units will power a wide variety of aircraft. Featuring the intuitive Skyway Interface and communication platform, the 2500+ helps these airports to make considerable improvements in operational efficiency and data collection.
"The Skyway Interface is one of our customers' favourite features of the 2500+ because it provides operators with easy access to the procedures that they use most frequently," explains Felix Covarrubias, Cavotec's VP of Global Airport Power Systems.