April 2017
AeroVironment launches advanced safety device on its charger 
At ProMat 2017 AeroVironment has launched a patent-pending advanced version of its ConnectRx for its PosiCharge ProCore line of electric forklift chargers for the materials handling industry.
According to the NIST White Paper entitled "Towards Improved Forklift Safety," more than 100,000 forklift accidents occur every year in the US. The study also reports that one in six US workplace deaths are caused by forklift accidents. Solutions that enhance forklift safety can positively impact workplace productivity and profitability.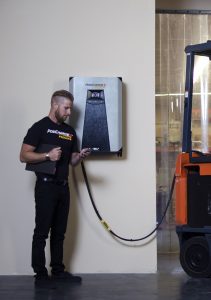 The advanced ConnectRx, a standard feature on PosiCharge ProCore, is a sophisticated cable connector health monitoring technology designed to detect connector abnormalities during charging sessions. It immediately alerts users to possible charger and battery output problems that could potentially result in damage to the forklifts or facilities and injuries to employees. In addition to the advanced ConnectRx, PosiCharge ProCore's anti-arc disconnect feature protects the operator and minimises wear on the connectors. ProCore's advanced charge algorithm manages voltage and battery electrolyte temperatures in real time and actively compensates for superior battery gassing control. The low overcharge and accurate current control featured in ProCore contributes to extended battery life and increased safety.
The new, advanced ConnectRx will be available in the spring of 2017 as a standard feature on the PosiCharge ProCore series.