LATAM Airlines launches new onboard dining concept for long haul flights
LATAM Airlines has unveiled a unique onboard dining concept for the Economy cabins of its long-haul international flights.
On flights of seven hours or more, LATAM has replaced its traditional culinary offering, comprising several component parts, with a choice of individual gourmet dishes that are 50% bigger than the previous hot meals and come with fewer accompaniments.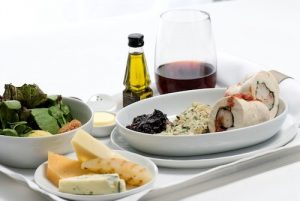 The main dishes are said to showcase Latin American, international and vegetarian cuisine. Passengers will be given a menu and able to choose from three options for lunch or dinner: a hot dish, vegetarian meal or a lighter cold option, accompanied by a drink and sweet snack. Breakfast will also include two options – all at no additional cost to passengers.
The new catering concept was developed over 16 months together with catering experts at the Gategroup Innovation Centre in Amsterdam. During this process, LATAM carried out 14 in-flight trials and found that, on average, passenger satisfaction scores for overall in-flight experience had doubled with the new dining concept, compared to previous Economy service on long-haul flights.
Over 300 new dishes have been created, which will be served to an average of 14,000 passengers on 64 flights each day. Two examples of the new dinner options include gnocchi with Parmesan sauce and slow-cooked lamb with ginger squash purée.
The new dining experience is already available onboard flights to and from Chile and will be introduced throughout the airline group's international network by the end of 2017.
"We truly believe this innovative new dining concept is going to transform the way that passengers experience in-flight catering," said Gategroup's VP Customer Experience, Anne De Hauw.
"At LATAM, we are committed to offering our passengers an unrivalled travel experience and they tell us that onboard dining is one of the most important differentiators," said Claudia Sender, Senior Vice-President Clients, LATAM Airlines Group.
"The passenger was central to every decision in the development process. We asked them what they wanted and collaborated with industry experts and our cabin crew to ensure it was deliverable on-board. Every detail was important to us – from the ingredients used to how each dish is prepared and served," she added.