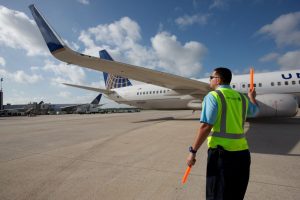 United Airlines has made a strategic equity investment in sodium-ion battery manufacturer Natron Energy to help electrify ground operations.
The sodium-ion batteries have the potential to help United electrify airport ground equipment including pushback tractors and operations at the gate.
United has made investments in companies developing technology to reduce aircraft emissions but Natron is the first with the potential to reduce the greenhouse gas footprint from United's ground operations.
The airline has more than 12,000 pieces of motorised ground equipment, of which one third is electric.
Natron's batteries can support operations through charging electric ground equipment, charging anticipated future electric aircraft, allowing airport operations to manage electricity demand and greatly improve resilience during inclement weather.
Michael Leskinen, President of United Airlines Ventures, said: "Out of the gate, we primarily focused on technology designed to help reduce carbon emissions from our airplanes. Natron's cutting-edge sodium-ion batteries presented an ideal opportunity to both potentially expand our sustainability investment portfolio to our ground operations, and to help make our airport operations more resilient."
Colin Wessells, CEO of Natron Energy, added: "Our batteries provide the high power over short distances that ground service equipment needs, and unlike lithium-ion, Natron's batteries are completely non-flammable and can be safely deployed into ground service operations."
Natron says sodium-ion batteries have several advantages such as better output and cycle life than their lithium counterparts, and independent tests showed that they were non-flammable.
The minerals used in sodium-ion batteries are abundant worldwide and easily sourced, unlike lithium which is in short supply with demand expected to triple by 2025.